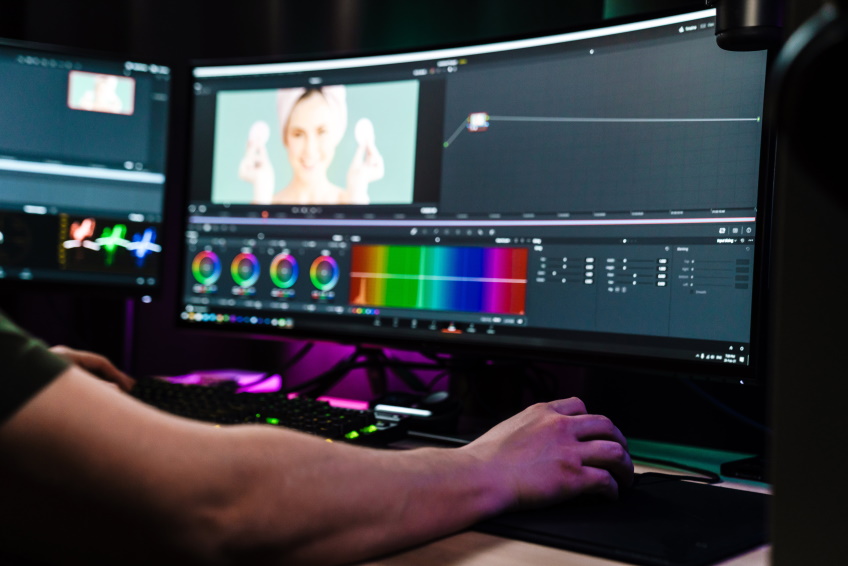 Content Repurposing for Video Production
Content repurposing is the act of recycling content assets to maximise resource availability. Repurposing content should be considered from the planning phase to ensure you get the footage needed. The process of considering your content for repurposing is simplified through the content audit as you get a clear idea of what you need to budget for. Keep your audit categories in mind when repurposing your content to ensure you cover all your potential content goals.
We have a couple of essential tips to aid your repurposing considerations:
Start with a larger piece of content and work backwards. By deconstructing the content into smaller pieces, it will make it a lot easier to create a comprehensive shot list.
Plan your shoot well to ensure you make the most of the time. A well organised team can push up your production value by optimising the time between shots. A well planned shoot also ensures you maximise your footage which will aid the editing phase immensely. The less stock footage required the better the production value of the video.
Consider taking 'behind the scenes' photos during your shoot to capture some easy content for later posts.
When repurposing video ensure all key project members provide timely feedback, when repurposing content you also increase your workload. Late feedback will delay your deadlines significantly.
Research your social media platforms and create a post template to match it. You want your content to compliment your posts as much as possible. The same goes for hashtags and other unique features. Always make sure you are optimising every facet of your content.
When repurposing content, consider creating follow-up content to nurture leads. A typical lead conversion happens between six and nine follow-ups, which means you should be planning content for each step of the sales cycle.
Build up a list of frequently asked questions and create video content that addresses them. This will ensure your repurposed content provides clear value, which in turn may qualify them further up the sales cycle.
Create all your design elements in advance to speed up production, typically with video production repurposing there is considerably more time spent on the editing phase which means you want all the design parts that represent your branding to be clear and cohesive.

Updating Content
Now that we have some better insight into content repurposing, we can begin exploring the process of updating your content. Video content updates can vary greatly depending on your initial production process, elements and value. As a general rule of thumb, the higher the production value the more elements there are to update. To simplify this process we will break down the various elements of video content and how to update them accordingly.
Animation vs. Traditional Video
Another important distinction we need to touch on is the difference between animation video content and traditional video content. Animation is the easiest medium to update, every visual element is updated straight from a computer. There are also little delays, updates can be made without the need to arrange teams, equipment and venues for filming. There may be additional elements to consider from an audio perspective, especially if you used a voice artist or music with additional royalties.

Voice
As discussed, voice artists may delay your update process as you would need to book them again with an updated script. Additionally depending on the artist you may need to pay more royalties when you extend the contents lifespan by updating it. One way to simplify this element is to use text-to-speech, this allows you to make updates to the narration straight from a computer. This technology has also come a long way, the days of robot sounding text-to-speech are a thing of the past.
Design
All the design elements of your video content are easily updatable. To further simplify this process we recommend requesting all the design files from your production agency to ensure you have all your intros and outros, titles, banners, and logo animations. We recommend taking this further by having a video template created with all your design elements. This will speed up production and aid your content updates considerably.
Footage/Filming
For traditional video, filming forms the basis of possibility for your video content. Every shot, including B-roll, enables you to tell a more compelling story during the editing phase. Keep in mind, the logistics of the shoot will directly determine how easily your content can be updated. There are many factors to consider here, they include:
Site location – any shoot that requires additional travel and accommodation is going to delay your content updates.
Specialised equipment – Some equipment has all kinds of additional logistics which may delay filming. For example: Cranes and drones need prior arrangement, facilitation and ideal weather conditions.
Talent availability – Whether you are hiring talent or using your own team members, some shots may require filming them again. This may add some additional logistical complications to updating your content. Typically if a client's budget is tight we recommend using staff members as talent, however if the client plans on repurposing the content at a later stage they may want to use hired talent instead. Employees tend to come and go, but actors are easily hireable again.
Complex or complicated sites – some locations have inherent risk involved, such as health and safety videos where the team needs prior arrangement and facilitation throughout the shoot. Some locations may only be accessible for a limited period, which may make it impossible to film there again.

Script Writing
When updating your video content, a script update is usually in order. The one pivotal element that may delay this process is the complexity of the script. For example: If a script requires a great deal of collaboration with subject matter experts, you can expect the same process for any updates to it. One big tip we can give for script writing is to try and focus your topics on evergreen subjects, this will simplify the process of updating your scripts and help keep them relevant for longer. If this done efficiently you may be able to update your scripts without the need for additional collaboration
Music
The most important consideration for music is whether or not it has any royalties involved. Keep in mind that updated content has an extended lifespan which means you incur more royalties. There is a lot of great royalty free music available to suit every tempo and topic of video.
Important Consideration
Despite these elements all influencing your ability to update your content, they should be considerations rather than a set rule. Having content that is easily updatable is great, but if that hampers the overall quality of the content or the actual content goals it might be a bad decision. First and foremost, above all else, your content should not compromise on the message or story. We recommend considering your contents updatability throughout the planning phase to ensure it is considered from the start, this will ensure you keep your content on track and focused. At the end of the day, content strategy should help optimise your content, not restrict it.
Get in touch with our team for your next video production.