Assurance Company
Sound Idea Digital produced three training videos for Rand Mutual Assurance, the administrator of choice for occupational injuries and diseases as well as for non-work related health and insurance benefits for the mining and other related industry sectors.
The purpose of this system is to provide RMA staff and members with an online learning solution. A course may be compiled and uploaded to the Learning Management System (LMS) where each learner can do the course in his / her own time. This allows for flexibility and sensitivity to workflow.
We produced a series of eLearning courses for Rand Mutual Assurance.
These courses included:
Advanced Excel 2013
Business Etiquette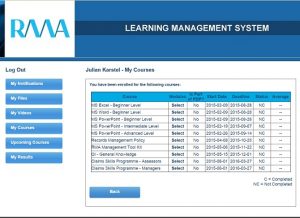 The Advanced Excel course covers advanced Excel formulas, analysing and presenting data in Excel, auditing worksheets and automating Excel worksheet functionality.
The Business Etiquette course covers proper etiquette practices for the four main communication methods employed in business: phone, email, text messaging, and written communication.
These courses are uploaded and delivered via a Learning Management System (LMS) developed by Sound Idea.
Rand Mutual Assurance is a South African non-profit mutual assurance company. RMA ensures that beneficiaries and their families receive care and compensation in the event of a work-related injury or occupational disease.
We are a full-service Web development and Content Production Agency in Gauteng specialising in Video Production, Animation, eLearning Content Development, Learning Management Systems, Content Production, SharePoint Development and Web Development. Contact us for a quote.
| Info@www.soundidea.co.za | www.www.soundidea.co.za | +27 82 491 5824 |