Legal Service Provider
Sound Idea Digital developed an Ideas Management System (IMS) for Legalwise. The main benefit of using an IMS is so that employees can share their ideas all in one place with their colleagues and management. Ideas Management comprises the gathering of ideas related to product development, procedure enhancements, cost reduction, customer insights and marketing initiatives.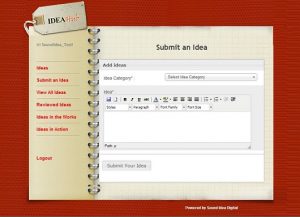 This assists with the growth of a business or company as the best practice initiatives are often born from the insightful input of employees. As employees work in different departments, managerial levels and locations, the knowledge and experience gained by such employees will offer an array of valuable information if correctly shared.
We are a full-service Web development and Content Production Agency in Gauteng specialising in Video Production, Animation, eLearning Content Development, Learning Management Systems, Content Production, SharePoint Development and Web Development. Contact us for a quote.
| Info@www.soundidea.co.za | www.www.soundidea.co.za | +27 82 491 5824 |