Consumer Products Manufacturer
Sound Idea Digital helped Braun Household South Africa to launch the Braun Baby Blog. This task required laying a foundation and building up a blog which was a project that required an all-hands-on-deck approach.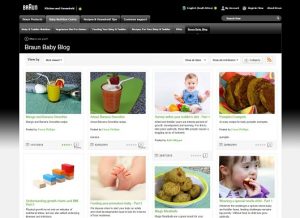 The new blog was launched to promote and market the Braun Multiquick5 MQ535 Baby hand blender – a product that simplifies the process of making baby and toddler-friendly dishes for busy parents. Our video production team planned, filmed and edited the step-by-step recipe videos.  These would complement the blog posts. To add authority to the blog, a team of nutritional and breastfeeding experts from Nutripeads were enlisted for their nutritional baby food expertise.
We are a full-service Web development and Content Production Agency in Gauteng specialising in Video Production, Animation, eLearning Content Development, Learning Management Systems, Content Production, SharePoint Development and Web Development. Contact us for a quote.
| Info@www.soundidea.co.za | www.www.soundidea.co.za | +27 82 491 5824 |