Poultry Producer
Astral is a leading South African integrated poultry producer. Their key activities consist of the manufacturing of animal feed pre-mixes, broiler genetics, poultry products as well as the production and sale of day-old chicks. Sound Idea Digital was contracted to produce a health and safety induction video aimed at their employees, contractors and visitors.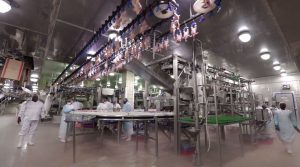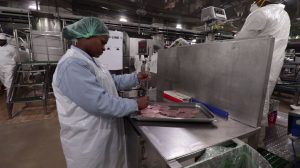 Filming took place at their Olifantsfontein factory in Gauteng where the core functions include slaughtering and processing chickens as well as packaging these products. Francois Karstel, who filmed at the facilities, thought he'd reconsider consuming chicken after seeing what happens behind the scenes. His confidence in chicken production increased instead and despite being in the factory for hours had chicken for lunch!
The factory is clean and they consider the wellbeing of the chickens before they're slaughtered. Once they arrive at the factory, there are fans to cool them down – they're handled humanely while they're alive and they make sure they are dead before they're sent to the scolding tank.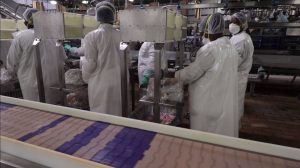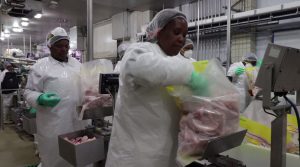 As a food manufacturing facility, it's vital that they adhere to stringent rules and laws regarding hygiene and cleanliness. The script focussed on these and highlighted the procedures employees are required to carry out. To further illustrate the rules, re-enactments of what to do and what not to do feature prominently in the video.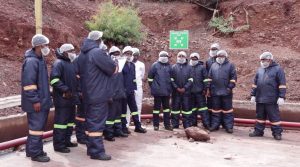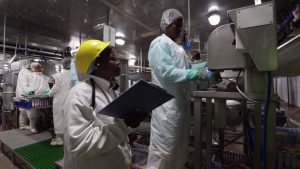 South Africa is a culturally diverse country; this production took that into account. In order to clearly get the message across to all the viewers, the video was translated into five out of the eleven official South African languages, namely: English, isiZulu, Sesotho, isiXhosa and Afrikaans. This called for having the script translated. This was followed by recording voiceovers for each of the languages then carefully editing each video to make sure what is said corresponds with the visuals.
We are a full-service Web development and Content Production Agency in Gauteng specialising in Video Production, Animation, eLearning Content Development, Learning Management Systems, Content Production, SharePoint Development and Web Development. Contact us for a quote.
| Info@www.soundidea.co.za | www.www.soundidea.co.za | +27 82 491 5824 |