Non-profit Organisation
There are few things in business as effective at proving the quality of your service and offerings as customer testimonial videos.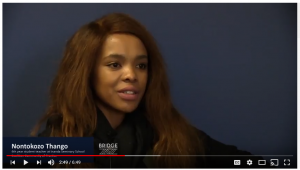 Sound Idea Digital produced a testimonial video for Bridge, reflecting on the impact that Bridge has had on three local communities of practice.
Bridge is a non-profit organisation that aims to link educational stakeholders in South Africa, and in so doing share working practice and knowledge in key leverage areas in the education system.
We are a full-service Web development and Content Production Agency in Gauteng specialising in Video Production, Animation, eLearning Content Development, Learning Management Systems, Content Production, SharePoint Development and Web Development. Contact us for a quote.
| Info@www.soundidea.co.za | www.www.soundidea.co.za | +27 82 491 5824 |